Hello friend!
Today I'd like to tell you why you should be mixing a camouflage t shirt with lace. Sounds scary?  It shouldn't! Trust me, it works!
Fashion is such an individual statement. I love that we can mix up items and create unique looks. One such look I like to do is mixing "tough" and "soft" pieces. This can often be achieved by combining leather and a soft, flowy dress.
A creative dresser can also accomplish this look with camouflage and lace. The print of camouflage is intrinsically tough, while lace is considered soft and feminine. I like to pair the two for an eye-catching outfit.
When I saw this skirt on sale at J. Crew, I knew immediately I could use it for this kind of an ensemble. I had been searching for such an item anyways. So, she made it into my closet and heart!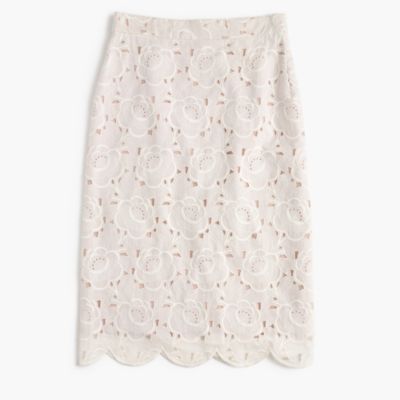 I wore it right away with the planned mix. I already had a camouflage t shirt (also from J. Crew). Therefore all of the planets were in alignment. I was so excited to try it.
The mix works surprisingly well. It's a great way of incorporating a camouflage print into work wear. The ladylike lace quickly transforms the camo into a work appropriate print.
To further contrast tough and soft, I brought in soft pink pieces by way of accessories. I have always loved olive green and blush pink. Well camo in essence is a neutral print of olive shades, so it too should pair well with pink, don't you think?
I chose rose gold jewelry to further complement the color scheme.
I hope I have given you inspiration to try this look. Let me know if you do. Also, please use the share buttons below to share on your favorite social media platform.