Hello Friend!
As you likely know, J. Crew catalogs are a constant source of outfit inspiration for me. The most recent catalog features beautiful outfits centered around color blocking. While many of the outfits are amazing (obviously, it's J. Crew!), the outfit on the left is in a league of its own. Besides the beauty of each individual piece, the colors together are vivid and eye-catching. Therefore, I had to attempt a similar look.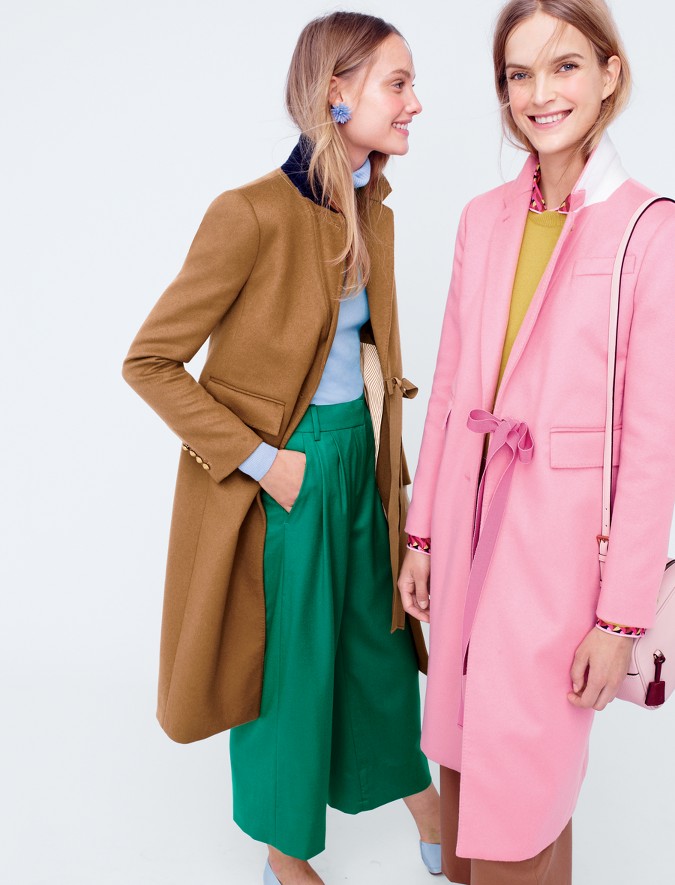 Because the essence of color blocking lies in the colors, I chose to use the same color palette as the catalog photo. As I have told you many times, when you are inspired by something, first shop your closet and find items that can make do for your interpretation.
As I looked around my closet, I had only one item of each color. Luckily, they were all different articles of clothing and thus could be paired together. Instead of pants, I had a green skirt. For the second color, the periwinkle blue, I also had an option in my closet, a blouse. Finally, for the camel coat, I had a camel long vest which succeeded in tying the whole outfit together.
Because this was a work look, I kept my accessories clean and neutral. Thus for my jewelry, I chose a simple monogram necklace, stud earrings, a watch and a fun ring.
Because the outfit is so colorful, I chose neutral for the rest of my accessories. Consequently, for my bag, I turned to my ever faithful cognac Rebecca Minkoff tote. In addition to the shoes, I also added a pair of cognac heels.
All together it makes for a fierce outfit. While I chose to make this a work appropriate look, I think with a few tweaks it can be a fun evening out look as well.
Finally, I hope from reading this post, you can tell I thoroughly enjoy taking outfit inspirations and turning them into real-life looks. In addition, I hope you will try to do this for yourself as well!
If you would like to shop the look, please see the items linked below!